Three Kick-Butt Games for a Kick-Butt Game Night
Of course a kick-butt game night includes your awesome peeps, food, and, let's face it, electricity. These three things I have used, partied with and had a blast with (not only my friends, but even my family!). Imagining my mom holding a Rock Band guitar and singing along to Metallica…weird? I bet you know how I felt. Good times.
I digress. Another element you obviously need for a successful game night is, well, games. Here is a short list of my personal tri-fecta of gaming.
1. Rock Band/ Guitar Hero – This is mostly used as a winding-down party game, most likely because of the mix of booze and mesmerizing notes on the screen that hypnotize people into an eerie calm, relaxed feeling. Please just try not to be like my obnoxious sister who hogs the mic. Share the gear and let everyone have a chance to be a rock star!
2. Catch Phrase – This game is good for a group of friends who want to play games and mingle at the same time. the beauty of Catch Phrase is that it's a word guessing game so friends can jump in at any time! Although, if you have a friend who freaks out under pressure, this might not be the game for them. You have to be quick on your feet, so to say.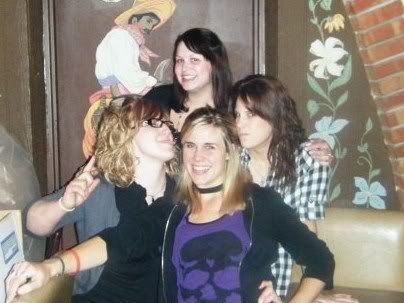 3. Apples to Apples – *Personal Favorite* This game is super fun to play with people you are still getting to know. It opens up conversation and allows you to understand the silly side of people! Unlike the other two games mentioned, I haven't yet noticed anything that sacrifices the fun of this game.
These three games keep your guests busy and the noise level down to fun laughter. I want to broaden my horizons on fun games to play with friends! Any personal favorites or recommendations out there?
All else fails – my girls and I are always up for bringing the fun!
Related posts: